遥か彼方に旗を立てよ!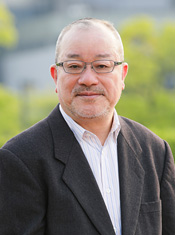 "Maintain a Vision Extending into the Distant Future" * "Maintain a vision extending into the distant future" is a phrase written at the top of our corporate management plan. These are words written down by myself as President of the company, and it is my message to everyone.
Aimedia Co., Ltd. President and
Representative Director Mikio Yonemata
Shortly after the company was established, when annual sales were around 100 million yen, I was told by a bank branch manager, "You will become an admirable manager when your annual sales reach one billion yen. You can give your business card to a person you meet on the Shinkansen without embarrassing yourself." It was five years later that company sales topped the one billion yen target. We attracted a lot of attention, being labeled a venture business, and we were able to build a head office that was small, but one that was our own. It was around this time that we also began recruiting people fresh out of university.
However, that was when we peaked, after which sales began to slide gradually. Employees became increasingly pessimistic, and the company struggled to stay afloat. Then an employee who was no longer able to hold himself back said to me, "Sir, please lead the way and show us your vision for the future." I had come to think I had succeeded upon attaining my goal of one billion yen in annual sales, and I realized I had not set myself the next target. As founder and President of the company I earned a reasonable amount of money, but new employees who had only worked one or two years at the company had no chance of being promoted or getting satisfactory pay rises as long company sales remained stagnant. To a company, breaking even is virtually the equivalent of going into decline. We needed to maintain growth.
It was at this time that we wrote out a corporate management plan for the first time. In it, in a section titled, "Vision for the Future of Our Company," we wrote down our business vision within ten years. It was 15 years later that we attained that goal. The difference from the previous goal was that the company had already set itself the next target. Our next goal could be so far into the future we may not be able to achieve it while I remain President of the company, but I believe someone in the company will eventually lead everyone to the goal.